Body paragraph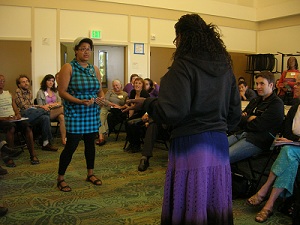 Saturday August 7, 2010 1:30pm USFWC Conference 2010 Berkeley
Workshop hosted by Wendy Orniston, LCSW and Arizmendi Association, and Bill Say (M.A.).
Many co-ops have difficulty dealing with conflict. For example, not all members have the same initiative, whether to expand the co-op or not, founder power imbalance, concentration of information, unequal skill levels, slackers/parasites etc. How do you deal with these problems so that the viability of your co-op is not threatened, but at the same time that you are adhering to co-op values of respect and solidarity?
One way of dealing with this is called Deep Democracy where every voice needs to be expressed and listened to. The goal not to stamp out conflict, for sometimes the most disturbing holds the most potential for learning.
Through a group process, you can explore the issue that is causing the conflict, explore the diversity of the group, and re-look at where your group is heading? To get started, in a group have everyone express how the conflict is making them feel, for example in a situation where some members are wanting to fire a problematic member. After everyone has had the opportunity to let it all out, switch roles. Get in the other person's shoes and continue the discussion. Once the conversation stalls switch roles again. During our role play in the workshop, the tones became softer, feelings became warmer and there was more 2 way listening.
Questions from participants in the workshop questioned whether a member who is problematic would participate in the role play and how to get buy-in of co-op members to ensure this process is a not a big waste of time and money (it would be encouraged to hire a facilitator in this role playing process).
Conflicts can be a large problem in workplaces and this workshop proposed one way of potentially dealing with it.