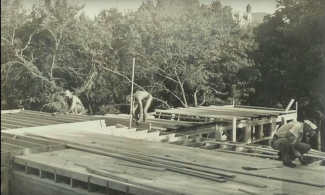 Body paragraph
A group wants to create and grow a cooperative movement in their hometown of Grand Rapids, Michigan. They travel to Austin (as well as Minneapolis, Chicago, and Ann Arbor) to learn about cooperatives and gain the inspiration and direction needed to achieve their goals.
Many Hands is ultimately the story of how the now-thriving cooperative movement in Austin, Texas (spanning all economic sectors - from housing, food and banking, to education, beer and donuts) originally came to be, and managed to survive and grow - despite the many challenges. We look at how communities in other cities, like Grand Rapids, can emulate this model that is a very real and tangible solution to the economic and cultural challenges our society faces both now and in the years to come.
With many hands, and the lessons we can learn from the cooperative legacy in Austin, it IS possible to build a sustainable future for ourselves and generations to come. This film is dedicated to that hope: the dream of a cooperative future.
Original release date: 5/6/2013