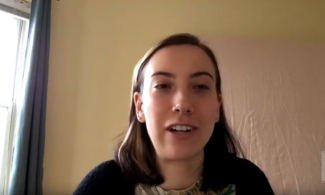 Body paragraph
Many of us begin our meetings with a round of check-ins, to re-establish connection with each person. In this time of quarantine and mutual aid, crisis and solidarity, we thought it would be good to do some check-ins with people in the cooperative and solidarity economy world. We asked each person four questions:
2. "How are you spending your time these days?" or "How are you keeping your peace these days?"
3.  "Have you seen anything inspiring as it relates to cooperation and the solidarity economy during these times?"
4. "Can you describe one fruitful change, as it relates to cooperation and the solidarity economy, that you think might arise as a result of the pandemic?"
We hope you enjoy them.
Transcript
Mica Fisher: Hi, I'm Mica Fisher.
I am a co-op and solidarity economy enthusiast, and I'm also in New York City. I can't say I'm a New Yorker yet for, I think, a few more years. That's where I'm based. And I also help manage the city's Worker Cooperative Business Development Initiative. So that's what I'm doing here.
These days, during the quarantine, I've been staying busy with a few things. For myself more personally, I actually have time to do workouts in the morning. Normally I've got like almost an hour commute, but now I get time to actually connect to my body. I think that's been a really big help for me. I feel like I'm getting stronger and more flexible. So yes, that's some silver linings for the time spent indoors.
But I've also spent a lot of time on Zoom calls. I've been doing some organizing with Resource Generation.  So trying to distribute funds and move resources and money to the people who need it most right now and to help people fight the urge to hoard, because I think that's something that's going to be a big deal coming months. And then I've also been organizing with my local mutual aid network. So that's taking some time. But it's also been something that's really helpful for me at this time and make me feel connected. What else?
Something that's inspiring to me as relates to cooperation and solidarity economy during these times.
I think there are lots of ways that co-ops are practicing principle six right now and looking out for each other. But what I was thinking about this, I wanted to mention one small thing that where I felt cared for by a co-op and that's by TESA Collective, which is a cooperative that sells their games.
And right now they're selling all their games half off in solidarity to try to help people connect and stay present while they're at home -- stuck at home -- and I got to buy a game: Space Cats Fight Fascism, figure out how to make that work over Zoom. I'm playing that now digitally with someone is quarantined in a different apartment.
I just thought that was significant because there are a lot of people who are price gouging right now for the things that are most useful in this epidemic. And I think it's just beautiful that a lot of cooperatives are lowering their prices in the midst of all this to act in solidarity with both customers and other cooperatives.
And then also one fruitful change relates to cooperation in the solidarity economy that I think might arise as a result of this pandemic.
So this is an interesting question, because I really don't know what's going to happen, so I'm not sure about "might," but there is a dream that might come out of this pandemic. And I feel like it there's a possibility of a future that I've never seen before. So that dream is that this pandemic will create a wave of co-op conversions.
So there are so many business owners who are close to retiring and taking on debt from loans, or debt because of their rent, doesn't make any sense to do right now. And they're like, "OK, I might as well throw the towel and and close my business sooner than later." And I think if we can reach those business owners and let them know that there is another option, those workers could help, could buy the business and they can convert to a work around cooperative, that's like such a huge beacon of hope for growth is going to come out of this. And it could really transform our economy in a way that we've like been organizing and fighting to do for a long time.
So that that is like, you know, I think the most beautiful outcome we can have from this. But I do think it will require a lot of strategy and organizing and knowing who our enemies are, which is unfortunately private equity and real estate. But that's something to keep in mind.
And I think that there's a lot of smart and passionate people working on the side of cooperators. So I'm looking forward to their leadership.
Mica Fisher works for New York City's Worker Cooperative Business Development Initiative (WCBDI).