Body paragraph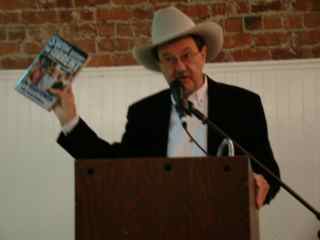 Jim Hightower is a man of very colorful language. 
"We have to get the hogs out of the creek" was Hightower's parting message in his keynote address at the U.S. Federation of Worker Cooperatives on Friday, Aug. 6 at the San Francisco Women's Building. 
I think the hogs was the metaphor for cleaning out those muddying up what democracy is supposed to be. We need a grassroots movement to make change, to clean the creek.
He had told a little story about how a family figured out how to pump water from a creek into the house.  However, the water that came out of the faucet was muddy.  The men were standing around scratching their heads trying to figure out what was wrong, when a woman, who had already figured it out said, "We have got to get the hogs out of the creek." 
That's what the people need to do if we want a better life. 
"We have to restructure our economy so that the wrong doers don't have the power to do wrong," he had said earlier.  "Co-ops give us a new sustainable inclusive way to organize our economy," he said. 
The co-op movement might be small, but we speak to the needs of the majority of the people," he said.
"The vast majority of people is on our side.  The problem is to connect our majority to something more meaningful.  ... Keep reaching out especially to communites of color, the union movement, working class folks and the broader youth movement." 
Hightower said people want a change.and needs solutions.
"People will respond. Find ways to create something people want to come to," he said, people are sick of corporate greed.
"The people are revolting in the very best sense of that term," he said. "You are the democratic future of America."