Body paragraph
Call it the Oakland Improvizational Tour.  Or Oakland's Special Synchroncity Tour.  Or the Divine Flow of Oakland Tour.  Whatever you call it, you have got to call it Amazing!!
 On Friday, about 25 of us attending the U.S. Federation of Worker Cooperatives conference were part of an economic development tour of Oakland.  Cooperatives are an economic development tool because they often create services and jobs in areas neglected by traditional so-called development that is done by businesses to make money.  Cooperatives generally fulfills neglected by traditional businesses whose aim is to make profits. 
By the time we ended, I think we were all in wonder of this improvisational masterpiece called a tour. We met the tree lady, the Mandela Food Co-op and Transit village, saw a school garden and ate strawberries and string beans, given a brief tour of the Honorable Marchus Garvey's Liberty House, among other things. The tour was part performance, part history, part economic development lesson, part science and technology, part inspirational and lots of love....Well, I hope you get the picture.
A few minutes to 9, as we were waiting for the bus, I learned that one of the persons going on the tour was Marilyn Langlois, Community Advocate for the City of Richmond, just outside of San Francisco.  She was at the conference on behalf of Richmond's mayour Gayle McLaughlin.
"We have a lot of unemploymented in Richmond," Marilyn said, " and she's looking for looking for idea for job creation and economic development that is worker empowerment."
I was impressed.  That's the kind of mayor we need in every community, I thought. 
The tour of Oakland was partly planned and partly divine orchestration.  First, I learned of David Roach from Daisy Garrett of the Mississippi Association of Cooperatives.  She usually attends the USFWC conferences, but wasn't sure she would make it this year.  At any rate, she suggested I call David.  I did.  Told him about the conference and suggested he check it out and see if there was a way he wanted to plug in.  Didn't hear anything more until I showed up at the spot to do the Oakland Tour.
I heard him say his name: David Roach,  the Oakland tour guide.  I was excited.  "You plugged in!" I exclaimed, psyched that he not only hooked with this movement, but was leading a tour of Oakland, an area I had never visited and was eager to see, especially after working with Brahm Ahmadi on his article in this issue.
From the start, it was clear that  David Roach was well acquainted with the community and was a master organizing architect.  When we had piled on the yellow school bus I asked him if we were going to see some Black Panther Party history as part of this tour.  Ha! No thing for David.   
As we drove to meet a woman who had "planted a lot of trees in Oakland," we drove past Merrett College where Black Panther leaders Huey Newton and Bobby Seal first met. 
URBAN RELEAF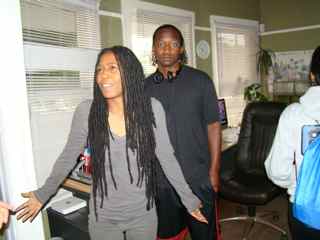 David had announced that he had tried calling Kimba, the tree lady (my term).  So her home was our first  unplanned stop -- Urban Releaf, 835 57th St.  When the high school students who work with her saw the yellow bus roll up, one ran inside to get her.  A couple of others had a stunned look on their faces.  Long locs flying and a look of "oh-no-he didn't!" on her face, Kimba took one look at the group of about 25 and quickly recovered. "All these people, we could've planted some tree!"  I loved it.  Kemba rolled with the flow.
Girlfriend hardly missed a beat, seeming to love an opportunity to explain her mission and to get a group that large working. 
"If we knew you were coming would've planted some trees," she repeated.  Kimba, a retired Soledad guard, was struck by the absence of trees when she first moved to Oakland, she explained when we crowded into her house, that obviously serves as the Urban Releaf headquarters.
"I moved to the block and there were no trees on the block, she said. "I saw that there were many youg people without direction. I wanted to make young people stewards for their communities."
Urban Releaf has planted 15,000 trees.  The trees have stopped 9 million gallons of pollutes storm runoff from flowing into the San Francisco Bay, she said research has showed.   
Young people some of them from juvenile halls help plant the trees and also learn green skills are learn a few dollars.  The county pays 80 percent of their salaries.
"This is awesome work," said Kimba, who is enthusiastically clear of her contribution to the world.  "If you want to do something, then plant trees." 
Check them out:  www.urbanreleaf.org or call 510-601-9062.
SCHOOL YARD GARDENS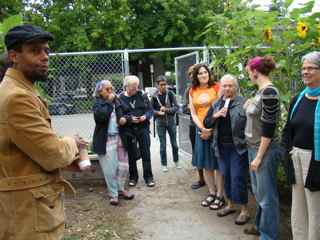 Our next stop was Claremont Middle School, across from Zachary's Pizza, an employed-owned company reputed to have some of thebest pizza in Oakland. There we met Brenda, and Joy Moore who showed us the school garden. 
On the tour was two young people from Toxic Soil Busters, a co-op of young people from Worcester, MA who do remediation of lead from soil.
When Joy mentioend that the ground had lead contaminated, Janie, seeing an opportunity to practice her craft, immediaely asked "Do you want to do a simple test, right now?"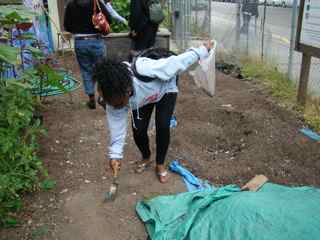 The school has a garden of strawberies near the side of strawberies planted in boxes. The lead remediation, performed by very tall sunflowers, takes years.  The main garden of the school has sun gold tomatoes, grapes, string beans, apples, oranges, herbs which are used to make tea.  The students will learn to sundry tomatoes, make tomatoe sauce and the can their produce.
"We wanted a true edible school yard," said Joy.
Sixty chools have gardens in the Oakland area, Roach said.
 MANDELA CO-OP and GRID ALTERNATIVES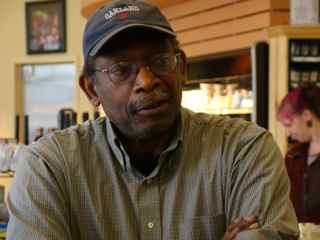 Our next stop was the Mandela Gateway named because it was an area that South African leader Nelson Mandela visited when he was released from prison.  The area is across the street from the West Oakland train station built in an area where many black businesses had set up shop for years.  Esther's Orbit was the last remaining business, and she recently died at 98.
This area has gone throurh an amazing amount of gentrification," David told the group as we stood on the sidewalk in front of the Mandela food co-op, a worker cooperative. 
Up walked Jahahara Amen-RA Alkebulan-Ma'at, outreach coordinator for GRID Alternatives, a group that install solar equipment in low income houses.  He explained that the group installed 12 solar panels in one day.  "Thanks for coming to Okland," he said. "It's not notorious." 
Check out Grid Alternatives at www.gridalternatives.org or call 510-652-4730.
Inside Mandela, Dennis Terry, talked to the group, about the history of the eight- member co-op.  The area had no grocery stores and in 1991 one.
"This is a dream come true for the community to have a co-op," David said. 
PEOPLE'S FEDERAL CREDIT UNION
Next door is the People's Federal Credit union.  Community Programs Coordinator Sayla Eisner-Mix came over to talk about his history.  "There were no banks, no credit unions," she said. The financial co-op has 3,000 member s and is 10 years old.  "A big part of our mission was to create wealth," she said, by helping low income people file for low income tax credits. They also educated the community members about pay day lenders and how they end of costing them more money.  The credit union is a part of the Self-Help Federal Credit Union.  Contact Sayla at Sayla.eisner-mix@peoplesfederalcu.org.
Across fromt the co-op is the Mandela Transit Village. In that area is a aquaponic system that has a big tub of red fish whose waste is used to fertilize plants.  A wind turbine on sight provides electricity.  
We walked around the corner to Liberty Hall where Marcus Garvey, leader of the black self help and reparations/ Back to Africa movment in the 1920s and 1930s, used to hold meetings.  David explained that it morphed through the years as a church, meeting hall, but was now on the National Register of Historic Sites.  "There is a lot of energy in this place."  We sensed David's tentativeness as he inquired of a worker at the house as to whether we could tour, especially as we learned that a class in digitial media was taking place. 
But the Bishop was not annoyed, he graciously welcomed us, and showed us a large charcoal drawing of Garvey. 
I love Garvey and his wife Amy.  My favorite saying of his:  "Look for me in the Whirlwind.  I will come back with countless million of African slaves...."something like that.   Today I still wonder about the spiritual meaning of that quote. 
Anyway, the man who had answered the door had set up chairs for us in the studio Overcome With Hope, the Liberty House's digitial arts media training, by the time the Bishop led us through the center and explained that the young people were learning TV broadcasting itself, instead of creating videos.  The students wanted to know a little about who were were.
One student said he like to write rap.  David amazingly started rapping to him about food, politics and self help.  Blew my mind! The young man did a rap on the spot too reminscent of the African call and response technique.  It was BEAUTIFUL!  Having been treated to Cathy Statz co-op songs at the Association of Cooperative Educators conferenced I saw an opportunity.  I yelled out the suggestion to create some co-op rap! 
I hope I planted a seed.
When Linda, our bus driver, cranked up the bus, even David was amazed that we were able to have the Bishop's attention, and at that moment started talking about the sychroncity of running into Jahahara, who had just returned from New York, and now the Bishop.  He said something like if he had tried to plan this, it probably wouldn't have happed. 
Leaving there we headed to The Bottoms, the only place African Americans at one time were allowed to live.  The light poles have red, black and green bands tied around them.  A wooden mural advertised the vision and businesses: The Black Dot Cafe, Soul Foods Co-op, Nat's Books. The House of Common Sense.  Nganga Dialo's used personal money to help get it going, but the co-op couldn't get off the ground. The son of Fred Panther Fred Hampton who was murdered in his sleep by police, Fred Hampton Jr., visits the cafe when he is in town. 
We also saw Ras, a grey loc'ed Rastafarian who fixes VW vans.  "I'm the last one [mechanic], Ras said as he sat in a 1960s VW loaded with tools.
I knew that David was talking about everything else except his own great work so I asked him to tell the group who he was and what he was doing. 
"I consider myself a community servant," he said.  He worked as a teacher, and helped create the Familyhood Connection, which teams up you with elders in the community which helps them stay in school. "Our philosophy is to strengthen organizationas that already exist," he said.
"Not eveyone thinks food is the most important thing.  In West Oakland the most important thing is safety. 
"I'm a very spiritual person," he said.  "To get Bishop Watkins there with the kids in the classroom... This was an amazing tour today.  Each of your part aligned something to make it happen. Even when you plan things, "it doesn't happen like this [did]."
I asked David what he needs help with. His answer:  curriculum, grant writing, how to get more adults involved, help with fundraisers, your stories.