Recently we have been invited to be part of a very exciting project that we wanted to share with all of you.  
It's called the Working Class History T-Shirt of the Month and we think it's a brilliant idea.
To learn more, click on that link and if you decide to buy a shirt (or two) use the discount code "GEO2022" and get 5% off.
Every shirt bought with this code helps to sustain the work of GEO.
Our T-Shirt of the Month for June 2022, made of 100% organic cotton by a worker-owned co-operative, and supporting grassroots labour unions in South Asia. 
It celebrates the life and work of Greek actor, feminist, poet and revolutionary, Katerina Gogou, who was born in June 1940. She opposed the military dictatorship, and later supported workers' struggles and the burgeoning LGBT+ movement in the 1980s.
Taking inspiration from her unfinished poetical autobiography and in particular from the poem Civil War, the design reflects a childhood memory of Katerina. The part of the poem that the design is based on goes as the following:
'I saw through the glass a bullet hitting my left hand palm, blood and the trash breathing. My mother was in the kitchen and my father I don't even know where, I open the door and I go to the trash. And there I saw, and I don't give a dime if you don't believe me, the most beautiful boy I had seen in my life. He was covered there, holding a machine gun, he had a short blond beard and long blond hair. His eyes…I don't know to tell their colour. He looked like or was the Christ. "Go little girl, go", he told me, "away from here. They will kill me". I took a deep breath to run fast.'
The poem concludes: 'The first man and the last I ever loved was an urban guerrilla.'
The design was realised by Berlin based Italian illustrator Anna Piera Di Silvestre.
This t-shirt is available strictly limited edition for this month only. Be sure to preorder yours by June 30 as all t-shirts will be sewn and printed together.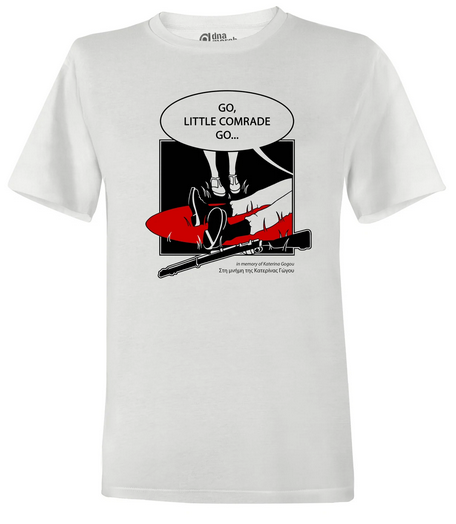 This is how the initiators of the T-Shirt of the Month project describe it with their own words:
The 'T-Shirt of the Month' project is a collaboration between Working Class History, an educational grassroots project that tells history from below through various formats and channels, and dna merch, a social enterprise based in Berlin and ally of the transnational workers' network ExChains.

The 'T-Shirt of the Month' project follows the idea of 'prosumption', a more sustainable and collective approach to production and consumption. dna merch, together with a global network of artists, creates exclusive shirt designs, inspired by events and stories from the Working Class History archive. Each shirt is strictly limited edition and made from 100 percent organic cotton: it will be available for pre-order for one month only and, afterwards, will be sewed and printed in the exact amount that were ordered that particular month!

The t-shirts of the month are literally shirts to make working class history. They do so in these ways:
They help fund our work promoting history from below across the various channels of Working Class History.
They help to sustain Humana Nova, a worker-owned textiles co-op in Croatia.
Through dna merch, part of the income generated will be used to support militant grassroots labour unions in South Asia.
They bring exposure and income to designers and artists with underprivileged and underrepresented backgrounds.
To order your shirt(s) please follow this link or click on the shirt and make sure to key in the discount code GEO2022.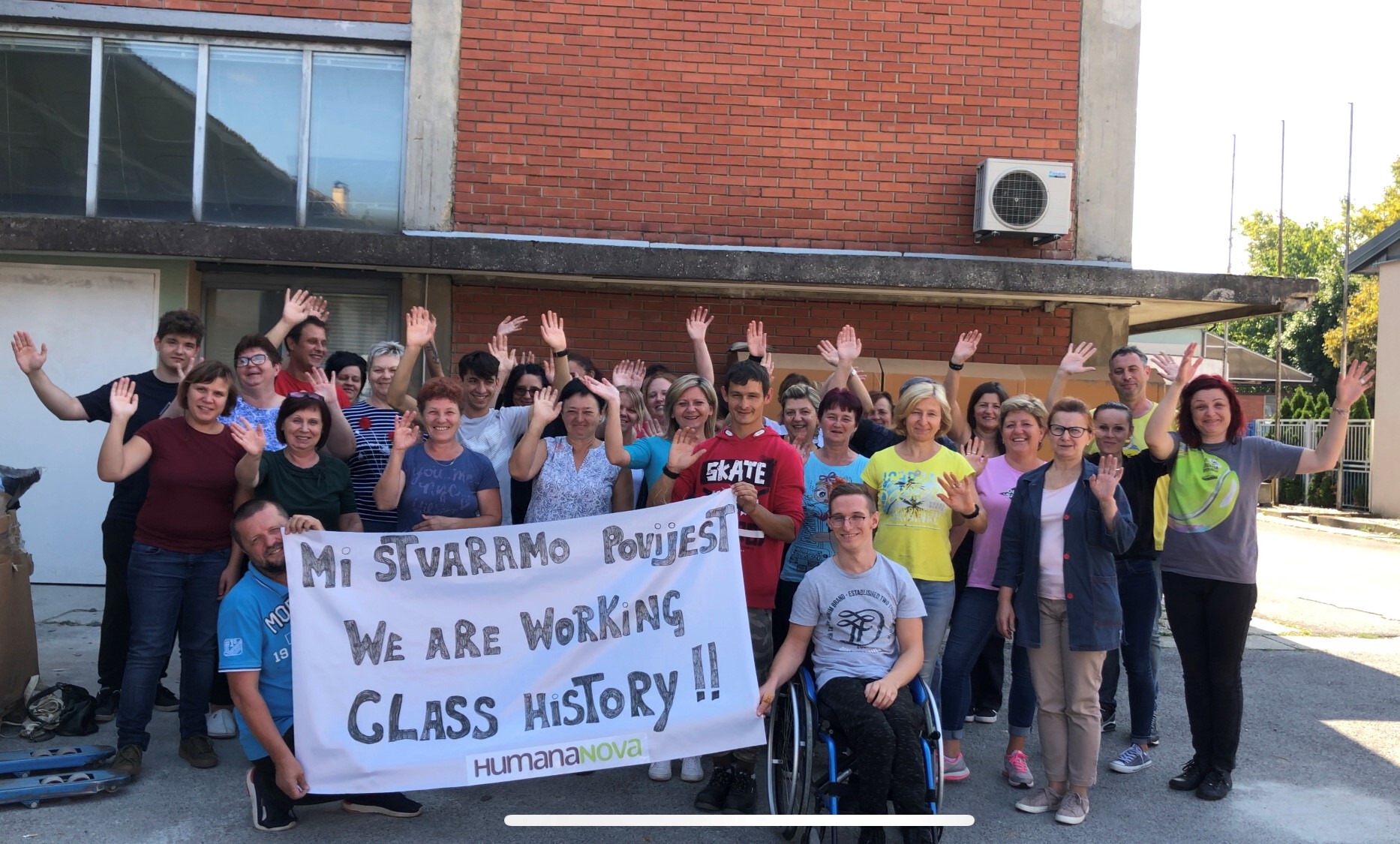 PS: You can pay with any debit or credit card and don't need a Pay Pal account. Just click 'Add to Cart and Check Out', rather than the PayPal buttons. Then, in the payment section, after you have been redirected to Pay Pal, just click 'Pay by Debit or Credit Card' instead of logging into PayPal, and then click 'Continue As Guest' rather than creating a PayPal account.
Thank you!