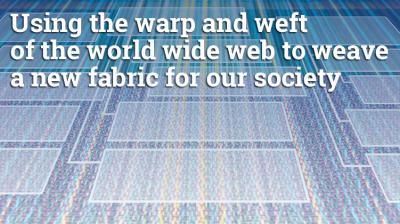 The internet has spawned a myriad of collaborative projects, the most notable of which are still Wikipedia, Firefox and Linux itself – the open source kernel which supports majority of the internet – but, in general, effective large-scale online collaboration has been extremely slow to evolve. Instead we are presented with a cacophony of voices all vying for our waning attention and, despite our best efforts, we naturally gravitate into internet silos which hamper the cross-pollination of ideas and opinions. Plus, now publishing one's ideas has become so easy, there is often huge overlap between disparate groups who share exactly the same vision, purpose and objectives but remain ignorant of each others' existence, or unsure how they could collaborate when they do discover each other.

This is the realm in which the new generation of co-operative weavers are 'shuttling' the threads of disparate groups back and forth, curating and collating concepts and 'memes' into more coherent tapestries. The Collaborative Technology Alliance highlights the objective: "There are many groups around the world working to deliver a more open, more collaborative and inclusive society. These groups are intention-aligned but remain disparate initiatives, which means they fail to benefit from the network effect".

Imagine how much more effective we could be if the members of the Transition Network, NEON, Occupy, The Solidarity Economy, The Internet of Ownership, The WWOOFers, The Eco village Network and all the other hundreds and thousands of like-minded networks were actively collaborating on creating the type of society to which they all aspire. The network effect would be unstoppable.