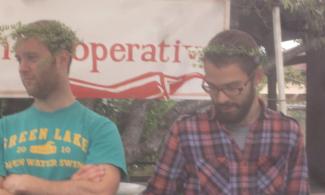 Body paragraph
I just paid a chunk of money to the Employment Security Department for Patty Pan Coop's quarterly unemployment tax.  The form and the payment were two months late; we're usually pretty good about keeping up on our tax obligations but this report is particularly likely to get away from us because it asks for more information than the others, including Social Security numbers and payroll hours by employee.
Feeling frustrated about the tax and the late payment penalties, I found myself thinking about the pointlessness of unemployment insurance for a worker cooperative. In a traditional capitalist business model, the Employment Security Department protects workers from the whims of business owners who would rather lay off workers when business is slow than make a commitment to providing a consistent livelihood.
A coop exists to benefit its members, so a worker coop true to its mission will explore an exhaustive, creative list of options before denying work. This issue is especially poignant for Patty Pan Coop, whose main revenue stream comes from farmers' market concessions, which are seasonal by nature. Year-round employment is our holy grail, the elusive goal that would give us enough stability and security for easy breathing.
Our founding members have all found ways to juggle our finances and our schedules to make it through the lean times of year. We postpone vacations until months when we wouldn't be working much anyway, we take part time off-season jobs, and we work hard enough over the summer to coast a little over the winter. At the end of each busy season we strategize to create the fairest plan we can manage for dividing the available work.
When we hire new crew, we're clear up front about the seasonal nature of the job. We've had a few unemployment claims over the years but they've consistently been filed after these workers were laid off from subsequent jobs during the time frame when our account was still liable for their claims.
We'd be unlikely to rehire a seasonal staff member who filed for unemployment at the end of a market season. That person would have an undeniable right to file, but our coop also has the right to hire the most suitable workers for its format, people who are resourceful and determined enough to find supplemental work during the winter. We've all managed to do so, even during the worst economic climate in recent memory.
I'm glad there's a government agency that protects workers from businesses that treat employees as dispensable, less important than a corporate bottom line. There's also comfort in knowing that our members would have a safety net if our coop ever ran into unforeseen, insurmountable difficulties. But real job security isn't going to come from a government program or a mandatory tax. Instead, it will grow out of a humanist, cooperative ethic and a willingness to share hardship as well as bounty.