The understanding of work and the work of understanding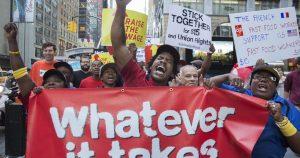 It's hard to think about much beyond the prospect of Donald Trump taking office. The idea hangs over us all like a dark cloud, except this storm isn't going to blow over any time soon.

But, instead of joining those who assign blame to this, that, or the other factor, I'm going to follow Nathan Schneider's lead and double down on building both cooperatives and the commons. After all, if we cast our minds back to The World That Was, not even two weeks ago, we'll recall that things weren't all that pretty. It may look rosy in comparison to what's coming, but there were (and are) many problems. A cooperative and communal view of the world was one appropriate solution to those problems, and that has not changed.
Read the rest on Steve Herrick's blog
Go to the GEO front page
Subscribe
A weekly email newsletter connecting you with our latest issues, articles and special features. Subscribe now!