Thread Coffee Wonderfully Weaves a Women-Owned Co-Op in Baltimore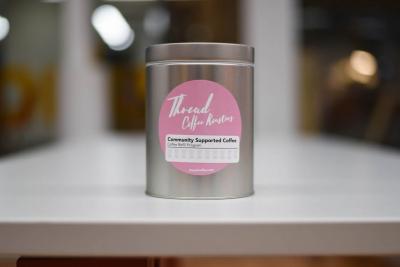 From humble beginnings six years ago, Baltimore's worker-owned roaster and retailer Thread Coffee Roasters has been building a solid local patronage based on mutual benefits through its Community Supported Coffee program, inspired by the community cupported agriculture, or CSA, subscription model.

For an upfront cost of $100, local customers receive a 12-ounce tin that can be refilled 10 times with any of the single-origins or blends that Thread has available — representing a savings of about $5 to $7 compared to single-bag purchases. The program never expires, so members can refill at their own pace. It also encourages zero waste in the roaster to consumer supply chain.

"By eliminating waste, we are also reducing costs, which is a very important thing for us because specialty coffee can often be very unapproachable for people of a lower income," said Thread worker/owner Nani Ferreira-Mathews, who is involved in both roasting and sales for the company. "The subscription also continues to give us capital that we can rely on, helping us grow the cafe program and generate a secure income for the roastery so that we can continue to pay for all the green coffee that's coming in."

Thread currently has three workers/owners and two employees, each with a general area of specialization, although everyone shares in the load. When it comes to making key decisions about the future of the company or financial decisions, all of the workers/owners participate equally.
Read the rest at Daily Coffee News
Go to the GEO front page
Subscribe
A weekly email newsletter connecting you with our latest issues, articles and special features. Subscribe now!