Saskatoon Co-op Workers Strike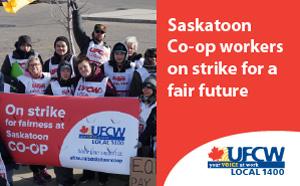 UFCW Canada Local 1400 members working at Saskatoon Co-op have been forced out on strike by a greedy employer who wants to rollback the principles of the co-op movement – principles like fairness and pay equity.

Saskatoon Co-op is pushing a mean-spirited, two-tier contract that would slash full-time workers' wages by $7,900 per year, and would prevent new workers from earning the same wages and raises as other workers doing the exact same work. It's not equal. It's not fair. And it's not the co-op philosophy.

Saskatoon Co-op CEO Grant Wicks says reaching an agreement will "depend on the willingness of the parties to compromise," but so far the Co-op has been unwilling to bend on its demands for major wage cuts. Meanwhile, UFCW 1400 members have told the employer they're willing to meet halfway and will accept a fair deal that reflects the needs of workers and the business.

Federated Co-op CEO Scott Banda could intervene in the matter, but has chosen to stand by while workers are left out in the cold.

Clearly the greed of Co-op executives knows no bounds, as executives are telling workers to take a massive pay cut while Federated Co-op's senior managers and directors share nearly $10 million a year.

That is why UFCW 1400 members are asking for your support. Help workers at Saskatoon Co-op stand strong for fairness and the future of good jobs by sending a message to Federated Co-op and the Saskatoon Co-op Board of Directors. Tell them that a fair contract means real compromise and an equitable agreement that provides fair pay for all Saskatoon Co-op employees. Take action by sending a message today. And please don't shop at Saskatoon Co-op until the strike is over.
Sign the petition at UFCW Canada
Go to the GEO front page
Subscribe
A weekly email newsletter connecting you with our latest issues, articles and special features. Subscribe now!