Register for Sociocracy Leadership Training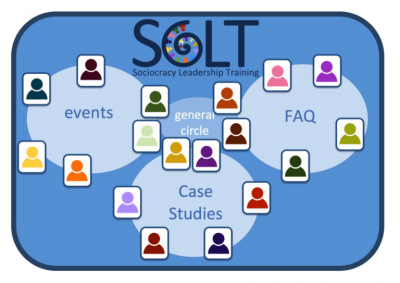 This is more than a workshop. This is learning by doing. You will be part of a sociocratic organization yourself. For a limited time, you do a real contribution in your work (this is no make-believe). Together you will form the first 'pop-up' SoLT organization.
Sociocracy is a governance method that changes the culture in an organization to a way of working together that is more harmonious, effective and transparent. You will also find that you will be able to hear everyone in your organization so no voice will be ignored.
Sociocracy For All will provide everything that your SoLT organization needs. SoLT members will have access to all the SoFA infrastructure, like google drive, all training materials, one-on-one mentoring, in-depth training just for SoLT participants, our mailing list, all internal documents, all tracking tools, accounts and resources. In a word, this is the real deal.
After this leadership training, you will have the basic knowledge so that you will be able to bring sociocracy to an organization. Even if you are not part of an organization that is considering adopting sociocracy, you will have more clarity around process and tools that will make your contribution in any organization more valuable.
And, maybe most importantly, you will be able to enjoy smooth team work and get stuff done. You will work with people like you, in an international team of people of all ages who care about people and planet. You will make great connections and experience a sense of belonging in this project.
By the content and events you create, you will help more people get access to tools and skills around governance. That way, you will be able to spread what you learn, so your impact goes far beyond yourself and the SoLT members.
Read the rest at Sociocracy For All
Go to the GEO front page
Subscribe
A weekly email newsletter connecting you with our latest issues, articles and special features. Subscribe now!