New Book on African-American Cooperative Movement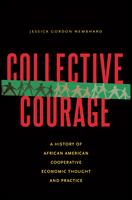 GEO Collective member Jessica Gordon Nembhard's new book on the history of the African-American cooperative movement is now available for  pre-order from Penn State University Press.  
"The word 'path-breaking' should not be used casually, but this is, in fact, a path-breaking book. There is nothing like it. Jessica Gordon Nembhard's study of Black cooperatives opens a door on a critical aspect of Black history in general and cooperative history in particular—a door very hard to open, given the challenges and difficulties with records and sources. What she has found behind the door is subjected to inspiring yet tough-minded analysis. The long trajectory of development Gordon Nembhard describes and the direction she illuminates offer profoundly important guidance as we enter an era of increasingly difficult economic and political challenges."

—Gar Alperovitz, Lionel R. Bauman Professor of Political Economy, University of Maryland, author of What Then Must We Do? Straight Talk About the Next American Revolution

 

"Jessica Gordon Nembhard's excellent book provides a refreshing antidote to the straitjacket on our imagination of better ways to organize our economic lives. Our economic lives can be both just and productive. Gordon Nembhard cogently demonstrates that black cooperative models offer a non-utopian route toward meeting both goals."

—William Darity, Jr., Duke University

 
Subscribe
A weekly email newsletter connecting you with our latest issues, articles and special features. Subscribe now!