Learning to Think Outside the Boss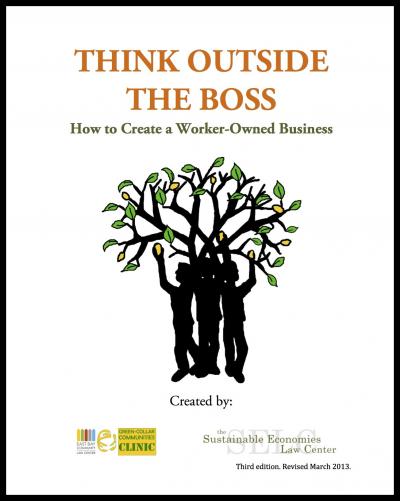 Thank you for your interest in hosting"Learning to Think Outside the Boss: An Introductory Workshop on the Legal Nuts and Bolts of Starting a Worker Cooperative!" Below, find resources we've created to teach about how the law works in, against, and for worker cooperatives. This is a shorter, participatory, discussion-orientated version of our half day "Think Outside the Boss" workshop.

This workshop provides an introduction to the practical steps individuals and groups need to take to establish, build, and successfully manage a cooperative enterprise. This introductory workshop attempts to bring forward basic legal and structural questions such as what is a cooperative, what is a legal entity, what rules govern fundraising and financing for cooperatives, and more. This workshop provides an overview of the content contained in Sustainable Economies Law Center's Think Outside the Boss: How to Create a Worker-Owned Business manual.
Read the rest and download resources at Sustainable Economies Law Center
Go to the GEO front page
Subscribe
A weekly email newsletter connecting you with our latest issues, articles and special features. Subscribe now!