Korean Government Assists Ghanaian Farmer Co-ops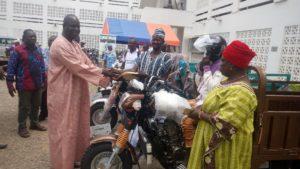 A total of nine farmer cooperatives in the Upper West Region have received assorted equipment and logistics to help improve their livelihoods.

The equipment including motor king tricycles, beehive, grinding mill and other materials were presented to the nine cooperatives with a membership of about 200 farmers, to support their line of activities.

The gesture is under the Training of Farmer Leaders Action Plan, a component of the capacity development of Farmer-Based Cooperatives and Farmer-Based Organisations (FBCs, FBOs) in Northern Ghana.

The Korea government through the Korean International Cooperation Agency (KOICA) is funding the project with a grant of $6,180,000 to be disbursed over a 42-month period.
Read the rest at Ghana Business News
Go to the GEO front page
Subscribe
A weekly email newsletter connecting you with our latest issues, articles and special features. Subscribe now!