How Unions Can Solve the Housing Crisis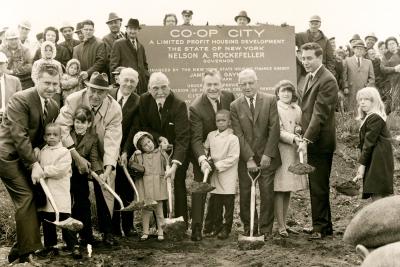 Today, more than 100,000 New Yorkers live in apartments built by the labor movement between 1926 and 1974, mostly through an organization called the United Housing Foundation. Roughly 40,000 still-affordable cooperative housing units—Amalgamated Houses, Concourse Village and Co-op City in the Bronx; Penn South in the heart of Manhattan; 1199 Plaza in East Harlem; Rochdale Village and Electchester in Queens; Amalgamated Warbasse in Brooklyn—stand as monuments to what an organized working class can achieve. This housing provides a bulwark against gentrification and a blueprint for ending the housing crisis. Let's look at how it all got started, how it came to an end and what it would take for labor to build again.

The story begins in 1916 in Brooklyn's Sunset Park, where immigrant workers from Finland found themselves overcharged for subpar housing. Members of the Brooklyn Finnish Socialist Club figured out they could build higher quality housing for less than it would cost to rent from a landlord. Sixteen families came together to form the Finnish Home Building Association. Their first construction project was financed by equity contributions of $500 each from six families, "comrade loans" totaling $12,000 from neighborhood residents and a $25,000 bank loan.
Read the rest at In These Times
Go to the GEO front page
Subscribe
A weekly email newsletter connecting you with our latest issues, articles and special features. Subscribe now!