How farmers benefit from ag equipment co-ops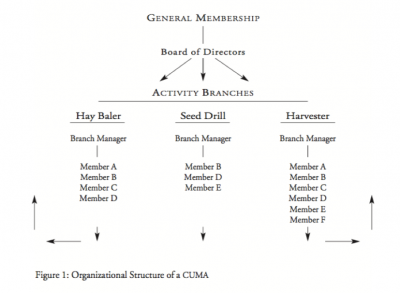 A CUMA is an agricultural equipment co-op that provides farmers the use of large, expensive machinery, and decreases the cost to access up-to-date equipment. 

As an organization, a CUMA is group of farmers involved in the same sector (grain farming, dairy, etc.), who pool equity based on the type of equipment they need. Shareholders in the co-op sign a contract committing to using a piece of machinery for a certain amount of time in a given year.

Shareholders also pay a membership fee, and generally each branch of a CUMA has a manager that oversees the scheduling of the equipment. This manager makes sure members are adhering to their contracts and that equipment is being utilized as efficiently as possible between members.

[...]

Though the amount of money saved by CUMA shareholder members varies on a case-by-case basis, the savings can be substantial. According to the Quebec Ministry of Agriculture, Fisheries, and Food, members of a dairy CUMA saved over $14,000 annually. Harris and Fulton claim savings could be as high as 70% in some cases. Plus, as an incorporated entity, liability rests with the co-op and not individual farmers. So, more individual farmer equity is free to grow their business or invest in other things.
Read the rest at Co-operatives First
Go to the GEO front page
Subscribe
A weekly email newsletter connecting you with our latest issues, articles and special features. Subscribe now!