Final Statement from the People's Summit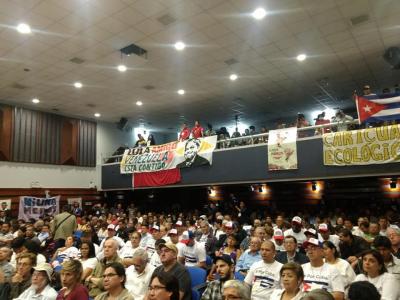 We, the representatives of social and popular organizations of Peru, Latin America and the Caribbean, met in Lima, Peru from April 10 to 14, 2018 to discuss the political, social and economic reality of Our America, to share our struggles and resistances, to strengthen the militant solidarity of our people and to strengthen the continental unity of the social and people's movements of our region.

Union organizations that fight for the defense of the labour rights of the working class, trade associations, feminist organizations that fight for gender equality, youth and student organizations that defend the rights of youth as leading actors, peasant organizations that continue to fight for the right to land, indigenous organizations that resist the onslaught of savage capitalism, environmental organizations that confront the predatory extractive model, organizations that defend the rights of sexual diversity, community organizations that fight for the rights of the citizenship, regional platforms that confront neoliberal free trade projects, organizations that fight for tax justice, regional networks of civil society organizations and dozens of collectives and movements that struggle day to day against political power and economic capital in its different expressions met once again.

And once again, we find ourselves in a scenario of confrontation and head-on struggle between the neoconservative forces of the submissive elites and the social, popular, progressive and leftist forces in Our America. We are living a counter-offensive of a imperial power that tries to erase the democratic advances and those of social and political inclusion that progressive governments have promoted in this last decade and a half.
Read the rest at The Dawn News
Go to the GEO front page
Subscribe
A weekly email newsletter connecting you with our latest issues, articles and special features. Subscribe now!