Food, Poverty, and Empowerment: Holyoke's Nuestres Raices
by Beth Coleman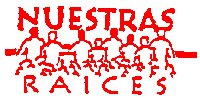 In April, I attended New Connections: the Hartford Food System's conference on building sustainable agriculture in the Northeast. I had little previous experience with agriculture or nutritional science and expected to be somewhat overwhelmed. At times I felt out of place listening to discussions of organic farming techniques, or soil testing procedures. I was excited, however, to realize the variety of ways in which food production is being linked to the empowerment of communities, individuals, and organizations. I was particularly impressed with organizations involved in urban gardening. People in the inner city lack access to fresh, high quality nutritional foods for many reasons: the scarcity of food markets, inadequate public transportation and a lack of nutritional and health information. Urban peoples are faced with a struggle to survive on many levels, and one of those struggles is to feed themselves. To meet this need, many urban organizations are looking at local food production as a way of improving the health of city residents, as well as fostering self-sufficiency, and building stronger communities.
A wonderful example is Nuestras Raices (Our Roots), located in Holyoke, MA. I was lucky to hear their director, Daniel Ross, speak at the New Connections conference. This got me interested in learning more about their activities. This summer I travelled to Holyoke to speak with members of Nuestras Raices's Board of Directors, and visit one of the community gardens. I also visited a vacant lot, and restaurant, which is now being transformed into a cafe, greenhouse and community market. What the group has accomplished in just five years is stunning.
Holyoke is one of the many small cities along the Connecticut River which suffer from enormous economic devastation. Once sustained by a booming paper industry, Holyoke is now home to abandoned factories and mills. The population of Holyoke is approximately 44,000, about one third of which is Puerto Rican. The city's Puerto Rican population is concentrated mainly in the poorest sections of Holyoke where the unemployment rate surpasses 25%. Residents of Holyoke's Hispanic community are frustrated not only by unemployment, but by racism and political neglect. Crime, vandalism, and drug use plague the inner city.
In 1992, an intern from Hampshire college worked with Nueva Esperanza and organized a project to clean up one of Holyoke's vacant lots. In discussing how to maintain the space after the initial clean-up, it was decitled that the lot would be transformed into a community garden. It was an idea that made sense. Thc Puerto Rican community has a long tradition in agriculture, and community residents had limited access to fresh produce. Why buy expensive produce picked by migrant workers in the southwest when the agricultural skills needed to produce fresh, locally grown produce existed within the community? Urban agriculture makes use of those skills, and provides people with a way to take part in improving their neighborhood, improving their diet, and building a stronger, more unified community. The success of the first garden, La Finquita, led to the development of Nuestras Raices, and to the creation of new garden sites. Today, Nuestras Raices oversees four community garden plots throughout downtown Holyoke it also supports a youth program, coordinates worltshops in nutritional information, commercial food preparation, organic farming techniques and leadership skills. The culmination of these efforts is the Centro Agricola. This project will include a community market, greenhouse and café. The Center's café and market will raise money to support the program, while the greenhouse extends the growing season for community gardeners. In addition, local caterers, canners, and producers of value-added products will have access to the Center's commercial kitchen. The market space will be available for individuals and businesses to sell produce, herbs, and prepared foods.
---
The Gardens
Eighty-five families throughout downtown Holyoke utilize the four community gardens, maintaining plots which are approximately 12'x20'. Each garden posts its own set of rules and regulations as determined by the gardeners. They include bans on drinking and drug use, and regulate the amount of agricultural chemicals which may be used. The four gardens function autonomously, but all gardeners are encouraged to attend monthly citywide meetings. Miguel Hernandez, a board member and Vista volunteer, told me that between 35 and 45 people had attended the last general meeting, and that previous meetings had shown even better turnouts. In addition to the family plots, each garden also houses a children's plot. Plots are also maintained by residents of a local homeless shelter, a local women's shelter and a home for emotionally or mentally challenged adults.

---
The Youth Program
The youth program provides children from seven to fourteen with the opportunity to work on a children's plot in their neighborhood. Ninety youths are currently participating in the program. The youth gardeners are taught traditional Puerto Rican gardening techniques by older gardeners. Speaking to gardeners at La Finquita, it seemed the youth program was something they were especially enthusiastic about. Eusebio Rivera, who maintains a plot at La Finquita, and serves on Nuestras Raices' Board of Directors told me, "It's really good for the people in this town, a good way to relieve stress, feel they're doing something. And it's really good for the kids, Keeps them out of trouble in the summertime, and that's hard to do. Especially in Holyoke." Last year, members of the youth program planted thirty-eight trees throughout Holyoke. Miguel Hernandez, who oversees the youth project, explained that the program benefits not only the children, but the residents who teach them about the land. "People love it. They're learning a lot, they're teaching, we're getting great feeolback...and teaching the little kids about gardening, they really love that." The youth program strengthens the community by linking generations, and by helping young and old residents realize that there are valuable skills and traditions within their own community.

---
Public Education
Nuestras Raices also co-ordinates workshops in public health, nutrition, organic farming techniques, leadership, and commercial food preparation. Daniel Ross explained to me, that while the gardens do not ban the use of chemicals or conventional farming techniques, many members of the Board of Directors strongly encourage gardeners to explore organic methods. Encouraging Holyoke residents to learn more about organic food production is another way Nuestras Raices empowers the community it serves. Giving people the information they need to make decisions about their health is something our society often fails to do. This is especially true for poor people, and people of color. Nutritional information, in conjunction with urban gardening, gives people the ability to produce their own foods, and teaches them about the impact those foods, and others, have on their health.
To encourage micro-enterprise, classes are offered which teach people to prep are natural medicines and foods like sofrito&emdash;a condiment of garlic, onions, peppers, and spices, for commercial sale. Holyoke residents will be able to use the Centro Agricola's commercial kitchen on a time share basis to produce such products. The Center will also provide market space on the corner of Main St. and Cabot. Main Street is a major thoroughfare connecting Holyoke to Chicopee, South Hadley and Amherst, and the intersection is a good location. In addition to being available to local caterers, restaurants, and individuals, the Centro Agricola will also raise money to help Nuestres Raices become self-sustainable. Renovations have begun on the restaurant, which is owned by Nuestras Raices. The organization is currently in negotiations with the city of Holyoke to purchase the adjacent lot which is now vacant.
---
Self-Sustainability
Self-sustainability is an important goal for Nuestras Raices. The four community gardens, and the lot adjacent to the Centro Agricola, are currently "borrowed" rather then owned by the organization. Daniel Ross is currently seeking funding to purchase the land, but he expressed hope that the organization will eventually be free of the need for grants. This sentiment was shared by board members and gardeners.
The drive to be self-sufficient, however, stems not only from convenience, but from the philosophy behind Nuestras Raices. An organization dedicated to empowering Holyoke's Hispanic community, should not itself be dependent on government or foundation grants. Nuestras Raices does not give aid in the form of monetary assistance; instead it encourages people to look within themselves, and within their community to find ways to improve their lives. By finding a common denominator, such as the need for nutritional food, they are addressing the need for unity and strength. Nuestras Raices has found a way to empower the citizens of Holyoke, forge links between generations and re-connect the youth to their cultural traditions, encourage micro-enterprise and the growth of local businesses and improve health and nutritional understanding within the Hispanic community.

---
For more information on Nuestras Raices contact:
Daniel Ross/Nuestras Raices
60 Hamilton Street
Holyoke MA 01040
413.535.1789

Beth Coleman is a senior at the University of Connecticut, where she is working on her Bachelor of Art, degrees in both Philosophy and Peace Studies. She began working with GEO, out of her interest in creative writing and independent publishing.
Include the citation below and GEO Newsletter grants permission to copy, use, and distribute this article.
Permission not for commercial or for-profit use.
©2001 GEO, P.O. Box 115, Riverdale, MD 20738-0115
http://www.geo.coop

.