Co-operative Development in Cuba: Many Questionmarks
by Jorn Hammerstrand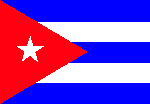 (NOTE: This is a report made by Self-Management, a Swedish organization, concerning their visit to the care, voluntary, and cooperative sectors in Cuba, April 4th-April 18th, 2000. Jorn Hammerstrand is Secretary-General of Self-Management.)
Tourism and/or Socialism?
There is still no lack of socialistic ideology in Cuba. It still links people together in spite of the fact that the majority has to buy its food on ration cards. However there is an expanding minority working in the tourist sector-Cuba´s main export income-who are earning dollars. They can go to the dollar-stores where you can get almost everything. These disturbing circumstances are cutting Cuba into two parts: A "rich" dollar-based tourist ecconomy and a "poor" one where people have to survive on pesos (but nota bene they are not starving and are well dressed).
The question is for how long the doctor in the hospital with a salary of 30 US dollars a month will fully identify himself with the waiter working in the hotel close by earning twice as much. Sometimes you can meet this doctor wiping the chairs in the same hotel to get his part from the tourists. We are already facing difficulties getting people to work in the care sector, says Dr. German Valdez Sigler one day when we meet him in a Havana hospital. (The youth are heading for the dollars from the tourists. That is for sure.)
The national objective nonetheless is to increase tourism to 7 million people by the year 2005 (from today´s 2 million). According to my point of view, this is neither realistic nor desirable for the Cubans- considering the many disadvantages coming from tourism.
Do Cooperatives Offer A Way Out?
But what about cooperatives? Could they be an answer to a growing service sector in Cuba, and perhaps a better and less capitalistic way of doing business? I asked these questions of Humberto Miranda, an active member of Havana´s "Instituto de Filosofia." The Instituto conducts research on emancipation, and into cooperatives and the voluntary sector- all with an eye to the future.
Humberto: We can accept the cooperative ideology. It comes to us as mother´s milk. We have also seen good results from cooperatives in the farming industry. But we are sceptical about worker´s cooperatives and service cooperatives.
Jorn: Why is that?

Humberto: In our contacts with other countries in Latin America-Argentina, Chile etc.-we have observed that these co-operatives in the long run turn into ordinary private, for-profit, enterprises.
Jorn: That is true but what is your alternative?
Humberto: We think that there are many solutions and we want to proceed step-by-step learning from the experience of other countries. We will have another workshop on all of this next year in Havana: January 11- 14.
(Well, meanwhile I´m wondering silent in my mind, how much time does Cuba actually have? The communist party had already accepted all kinds of cooperatives in the very beginning of the 1990s, but has so far only tolerated producer cooperatives in the countryside. Now with an increasing concern for the cities-especially Havana-there seems to be no preparation how to handle capitalism in the tourist sector. Corruption and prostitution is growing in front of their eyes.)
Jorn: What is going to happen when Fidel Castro dies and the blockade from the US is lifted? Most probably this will happen at the same time. Has the communist party made any preparations more than putting up posters saying "In cada barrio-revolution?"
Humberto: Not really, except that they are trying hard to decentralize decisions to improve conditions in every quarter of Havana to special committees. And they are giving the voluntary sector a free hand. We hope that popular movements are going to take over more and more from the party.

The Instituto philosophers emphasize to us that Cuba has paid a high price for the Soviet period of their history. However, they have not returned to their own traditions-and starting a co-operative movement shall and must take time. Yes, an old friend of mine from the co-operative movement in Sweden has the following proverb: "Co-operation is the revolution for those with patience."
Before leaving we receive the Institute´s publication: "Las trampas de la globalization." We agree on meeting again at their workshop in January, 2001, and after that in Sweden during May, in connection with the International Institute for Self-Management Conference in Dubrovnik later that month.
Include the citation below and GEO Newsletter grants permission to copy, use, and distribute this article.
Permission not for commercial or for-profit use.
©2001 GEO, P.O. Box 115, Riverdale, MD 20738-0115
http://www.geo.coop