Ed Whitfield: "The Other Side of the Door"
Making the New Economy Work for Everyone
[Editor's note: In the opening speech from this year's CommonBound conference, Ed Whitfield, co-managing director of the Fund for Democratic Communities (F4DC), discusses the necessary conditions for creating an economy that provides not only the knowledge, but also the means, for economic security to everyone on an equal basis.  He discusses the intersection of economic and environmental justice, the inherent biases of  our standard narratives, and how a focus on reclaiming the commons, democratizing wealth, and "thinking together" can help "open the door" for just economic development.  Whitfield offers a critique of the current economic system--and of many of our standard ways of thinking about and confronting its many ills--with his characteristic insight and humor.]
Go to the GEO front page
About the author: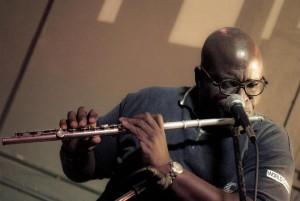 Ed Whitfeld is co-founder and co-managing director of the Fund for Democratic Communities (F4DC). A long time social justice activist, Ed had been involved in labor, community organizing and peace work since the late 60's when he was a student activist at Cornell University. He was the chairman of the Greensboro Redevelopment Commission for 9 years and formerly board chairman of Greensboro's Triad Minority Development Corporation.
In his work with F4DC, Ed helped initiate the formation of the Southern Grassroots Economies Project (SGEP) and their annual CoopEcon conferences aimed at networking and training among people interested in developing a cooperative new economy in the US South. He has visited and studied worker cooperative activities from the Evergreen Cooperatives of Cleveland, OH to the massive Mondragon Cooperatives Corporation in the Basque region of Spain. For Ed, helping people in communities engaged in meaningful, democratic, just, sustainable and productive activities is a key motivation.
He is currently helping to provide technical assistance to a group of people living in an urban food desert struggling to develop a community owned cooperative grocery store. Ed is deeply involved in conceptualizing and spreading the idea of democratic ownership and the reclamation of the commons.
Subscribe
A weekly email newsletter connecting you with our latest issues, articles and special features. Subscribe now!