Worker Co-ops Magazine Archive Now Available!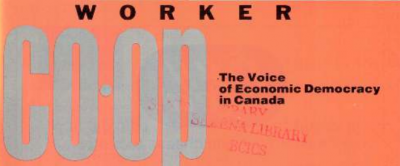 Beginning in late 1980 with a few simple pages, Worker Co-ops magazine quickly became a regularly produced news and information source for the burgeoning Canadian worker co-op movement. The content grew from a mere 5 pages in the first issue to well over 40 later in the decade, with production quality increasing as subscriptions joined on.  In-depth articles on current events, updates from around the country, international news, op eds, book reviews – – the newsletter (eventually called magazine) gave a glimpse into the worker co-op movement, with an approach that was both pragmatic and visionary. For a time in the early 1990s, the newsletter was produced bilingually, with English and French pages inverted for easier reading and the additional title of Magazine Coop de Travail. Publication of Worker Co-ops came to an end in 1992 shortly after the Canadian Worker Cooperative Federation (CWCF) formalized as the trade association for worker co-ops in Canada.
Read the rest and browse the archives at Canadian Worker Co-op Federation
Go to the GEO front page
Subscribe
A weekly email newsletter connecting you with our latest issues, articles and special features. Subscribe now!