Tired of Waiting for Corporate High-Speed Internet, Minnesota Farm Towns Build Their Own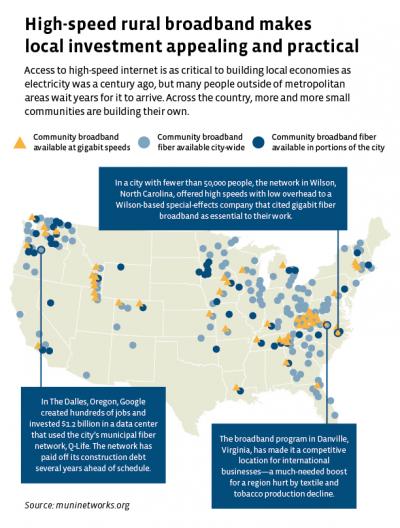 Fourteen miles from Winthrop, in Moltke Township, population 330, one soybean- and wheat-farming family reported its sluggish DSL connection often made it impossible to upload reports to business partners.

Organizers in Winthrop knew they were too small to fund a major internet infrastructure-building project on their own, so they reached out to other neighbors, the town of Gaylord, population 2,305.

And the towns attracted 25 more municipal allies. 

Today, in this sparsely populated swath of Minnesota, a grassroots, member-owned cooperative spanning more than 700 square miles and four counties is poised to expand high-speed broadband access—without relying on federal funding. After seven years of development led by local leaders and volunteers, RS Fiber, now in its first phase of construction, is expected to deliver high-speed broadband internet to more than 6,000 rural households by 2021. And unlike companies like Mediacom, the co-op is owned by local customers who have a say in rates and how it's operated.
Read the rest at YES! Magazine
Go to the GEO front page
Subscribe
A weekly email newsletter connecting you with our latest issues, articles and special features. Subscribe now!