New Housing Co-op in Chicago's Bronzeville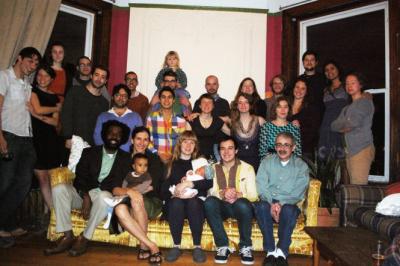 "It's a new beginning, new people, new house," says Magnolia Diamond, one of the first members of Wells, who previously lived for a year and a half in Bowers House. Since the three-story house was refurbished, Diamond sees Wells increasing its involvement within the Bronzeville neighborhood. "I really want to do outreach," Diamond said. "As a community, I think we should be not only for the people who are living in the house, but also for everyone around."

Despite an established presence on the South Side, Qumbya and other co-ops remain enigmatic to many who do not participate in cooperative living. As Wells residents settle into their new home, they and other Qumbya members have begun to consider how this expansion affects their organizational identity and their role within the larger community. They see Qumbya's expansion into Bronzeville as an opportunity to dispel skepticism about cooperative living, and, in its place, to extend an image of awareness and inclusion.
Read the rest at South Side Weekly
Go to the GEO front page
Subscribe
A weekly email newsletter connecting you with our latest issues, articles and special features. Subscribe now!