New Book: Economic Democracy and Community Development in Pennsylvania and Wisconsin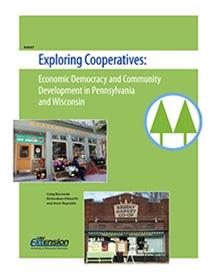 On June 13, 2012, two hundred people participated in a successful conference at Drexel University that explored what the urban areas of Philadelphia and Madison, and rural areas in Pennsylvania and Wisconsin, can learn from one another about building cooperatives and cooperative networks, and what cooperatives contribute to cities, regions, and states.

The conference included breakout sessions and workshops that examined specific cooperatives in detail, comparing those in Pennsylvania (mostly from Philadelphia) and those in Wisconsin (mostly from Madison). This publication is a compilation of 20 case studies presented at the conference (162 pages; 2016).
Read an excerpt and buy the book at the Learning Store
Go to the GEO front page
Subscribe
A weekly email newsletter connecting you with our latest issues, articles and special features. Subscribe now!