Magazine Focused on Community Race and Class Issues Is Available for Free Download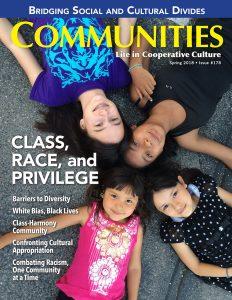 In today's world, it's rare to find positive and engaging stories that simultaneously expose readers to sensitive topics like race, class, and social barriers and biases. The Fellowship for Intentional Community (FIC), a nonprofit organization with offices based in Rutledge, Missouri and Louisa, Virginia, has produced Communities magazine for the past 25 years, exploring the joys and challenges of navigating such issues together in cooperative groups.

The Spring 2018 edition of Communities, released on March 7, focuses on "Class, Race, and Privilege," and contains more than 20 articles which look unflinchingly at a major "elephant in the room"—the relative lack of racial and class diversity in most intentional communities, at least in North America—while suggesting ways of understanding and addressing it.
Read the rest and download your copy at Fellowship for Intentional Community
Go to the GEO front page
Subscribe
A weekly email newsletter connecting you with our latest issues, articles and special features. Subscribe now!