It's Not a Food Desert, It's Food Apartheid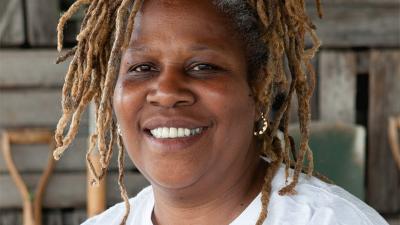 Washington has won a James Beard Foundation Leadership Award, been invited to the Obama White House for her involvement with New York's Botanical Garden, and been called "urban farming's de facto godmother." She's also worked to transform the Bronx's empty lots into spaces where food can grow, helped launch a farmers' market, and, in relentlessly engaging her community, has remained focused on the intersections of food and issues like poverty, racism, a lack of healthcare, and joblessness.
In other words, Washington has been around the block. What she found is that there weren't very many people who looked like her with active roles in the food system. To bring additional voices to the table, she cofounded Black Urban Growers, an organization dedicated to supporting and advocating for black farmers and black leadership in the food movement, in 2009. And as she creates a more inclusive food community, she is working to redefine the challenges that the food system faces, too. Washington is opposed to using the expression "food desert," which she calls "an outsider term" that calls desolate places, rather than places with enormous potential, to mind. She prefers "food apartheid," which "brings us to the more important question: What are some of the social inequalities that you see, and what are you doing to erase some of the injustices?"

I connected with Washington over a long phone call to ask her about these distinctions, among other things. Throughout our conversation, she pointed to the extent to which food is connected to most everything—health, education, class, the environment—and that, if we're to be good advocates for a better food system, we need to take an intersectional approach. "'Food apartheid' looks at the whole food system, along with race, geography, faith, and economics," she says. "When we say 'food apartheid,' the real conversation can begin."
Go to the GEO front page
Subscribe
A weekly email newsletter connecting you with our latest issues, articles and special features. Subscribe now!