How Black Co-Ops Can Fight Institutional Racism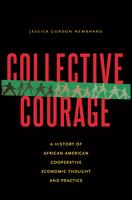 My parents realized when I was young that the schools in our Brooklyn, New York, neighborhood were subpar compared to those in Manhattan. So they combined their resources with other families in my community to start a carpool service that transported me and other neighborhood kids to the higher-quality schools in Lower Manhattan.

[...]

These cooperative efforts of sharing resources and money were done by families in my community to ensure the future of the the next generation, despite our neighborhood's failing schools and lack of after-school programs and youth employment. These sort of informal co-ops are nothing new to the black community. However, as a new generation faces systemic challenges like the police shootings of unarmed blacks, young activists are taking another look at economic efforts like co-ops as a possible way to fight institutional inequality.
Go to the GEO front page
Subscribe
A weekly email newsletter connecting you with our latest issues, articles and special features. Subscribe now!