Crisis = Opportunity: Taking it to the next level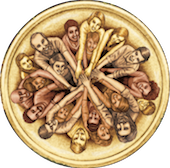 Every day intentional communities and their allies work to model a better future. And everyday, the FIC works to support their development, share what they've learned, and connect them to the broader movement towards sustainability, cooperation, and justice. As a grassroots funded organization our income consists of membership fees, donations, and mission-related business income. We've never been foundation funded. It's a testament to the network we serve and the importance of intentional community.

But right now, more than ever, we need your help. 

As the intentional communities movement has continued to grow and evolve, we've increased our efforts. The challenge has been to increase income to increase capacity, and this has led us into a financial crisis. We have become dangerously reliant on cash flow loans and credit cards.
Read the rest at the Fellowship for Intentional Community
Go to the GEO front page
Subscribe
A weekly email newsletter connecting you with our latest issues, articles and special features. Subscribe now!