Co-op City: Zürich's Experiment with Non-Profit Housing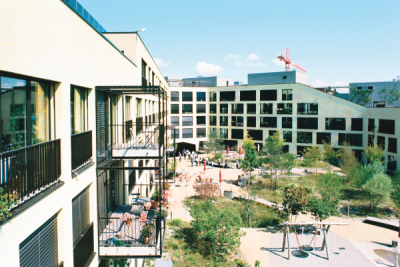 Thanks to a clever design scheme by Müller Sigrist Architekten that integrates the nine-metre high depot hall and curved track into the building's supporting frame, the site now boasts 97 affordable housing units for approximately 250 people, 5,000 square metres of retail space, offices and ateliers, as well as a publicly accessible raised plaza. More striking than the architecture, though, is the economics. The project was initiated by a grassroots collective of ten people and developed in line with an independent non-profit model that rejects speculation in favour of sustainability.

Switzerland has a long history of co-operatives. As Andreas Hofer, one of the original leaders of the co-operative housing movement, later explained to me in his office at the seminal Kraftwerk1 development, "co-operatives are in some way part of the national myth." The country's two major supermarket chains, for example, were founded, and continue to operate, as co-operatives, with a combined membership exceeding half the Swiss population. An early 20th-century product of the broader European labour movement, co-operatives in Switzerland soon began to provide non-market rental housing to their working-class members. In the process, they acquired large land holdings at cut-price rates on what were then the peripheries of growing cities.
Subscribe
A weekly email newsletter connecting you with our latest issues, articles and special features. Subscribe now!