Buurtzorg's model of care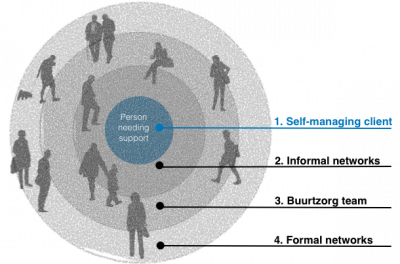 Self-managing teams have professional freedom with responsibility. A team of 12 work in a neighbourhood, taking care of people needing support as well managing the team's work. A new team will find its own office in the neighbourhood, spend time introducing themselves to the local community and getting to know GPs and therapists and other professionals.  The team decide how they organise the work, share responsibilities and make decisions, through word of mouth and referrals the team build-up a caseload.

Buurtzorg teams are entrepreneurial in spirit, continually improving the organisation and services. All of Buurtzorg innovations come from one person or a team having an idea and the freedom to try something new. For example, Buurtzorg has an annual national Walker-race – started by one team and their clients organising a neighbourhood walker-race – and the idea has now spread across the Buurtzorg community of 10,000 nurses.
Go to the GEO front page
Subscribe
A weekly email newsletter connecting you with our latest issues, articles and special features. Subscribe now!